September 14, 2019
|
News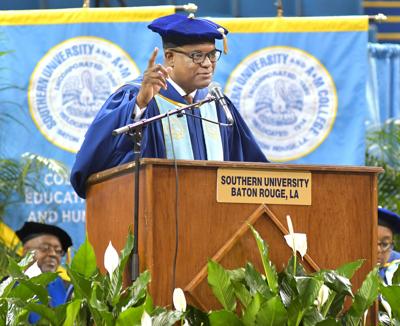 Attorney Domoine D. Rutledge, Southern University Board of Supervisors chairman, makes a point to the university's graduates while serving as speaker during summer commencment on Aug. 2, 2019, at the F.G. Clark Activity Center.
PHOTO COURTESY OF JOHN OUBRE/SU COMMUNICATIONS
Four deaf students from Saudi Arabia are suing Southern University, claiming the school's failure to consistently provide a sign language interpreter in their classes at the Baton Rouge campus violates federal law and jeopardizes their education.
The suit, filed in Baton Rouge federal court, asks the court to order Southern to develop, implement and comply with policies and procedures designed to prevent future discrimination against the students and other similarly situated individuals.
Naif Alrshdan, Hindi Alqahtani, Mohammed Alhashem and Omar Alshahrani also are seeking monetary damages.
They first enrolled at Southern last fall and, prior to attending classes, met with the school's Office of Disability Services to request the necessary auxiliary aids and services in the form of American Sign Language interpreters.
Fall semester classes began Aug. 20, 2018, the suit says, but ASL interpreters were not consistently provided until last October.
The suit describes the attendance of interpreters as sporadic and says they would not attend classes "for weeks at a time."
"On one such occasion, Naif Alrshdan contacted Deaf Focus, the sign language interpreting agency contracted by Southern University to provide ASL services, and was advised … that they would not be providing ASL interpreters for the entire week because Southern University failed to pay their bill for the past ASL services," the suit alleges.
The students' attorney, Dominick "Rusty" Bianca, said in an interview Wednesday that their grades "definitely suffered" during the 2018-19 school year because of Southern's failure to comply with the federal Americans with Disabilities Act and other federal laws.
Bianca said the students are having the same problem this semester.
Southern University System spokeswoman Janene Tate said the university does not comment on pending litigation.
Patricia Hebert, coordinator of Southern's Office of Disability Services, sent the students an email Tuesday stating that ODS "has been informed that Deaf Focus will begin interpreting services for you on tomorrow, 09/11/2019."
"Please be present for your classes," the email, provided to The Advocate by Bianca, concludes.
In an earlier email sent to the students on Sept. 3, Hebert said ODS had received their communications regarding the lack of interpreter services for their classes this fall semester and was awaiting direction from the university administration.
"This office is aware of the impact, of not having interpreters, on your understanding and being successful in your classes," she wrote.
The students' lawsuit says they are "unable to meaningfully engage in the educational services provided at Southern University" without interpreters.
The students' native language is Saudi Arabian Sign Language, but while in this country they communicate primarily in American Sign Language, the suit notes.
Bianca said the federal suit should place the Southern Board of Supervisors on notice that providing the necessary accommodations to the four students "is as equally important as providing handicap ramps and wheelchair access to students traversing the SU campus in wheelchairs."
"I am often asked why the deaf individual cannot simply bring their own interpreter to class, medical appointments, or to court, and my standard response is: "If a student, patient, or client is in a wheelchair and shows up, do you tell them they have to bring their own handicap ramp?'" he said.
Bianca said the four students spent two years learning English and American Sign Language.
The lawsuit, filed Aug. 20, is assigned to U.S. District Judge Brian Jackson.