September 28, 2019
|
News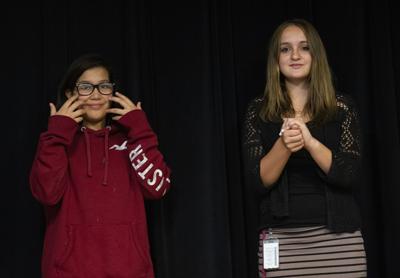 Yoleth Valtierra, 12, left, signs a tiger while Grace Shular, 12, signs a turtle Thursday at the Colorado School for the Deaf and Blind.
Grace Shular's favorite animal to sign — or communicate using her hands — is the turtle.
By covering a thumb-up fist with her other hand and wiggling the thumb, the word in American Sign Language mimics a turtle peeking its head out to see if it's safe to fully emerge.
It's a fun one to sign, 12-year-old Grace said through an interpreter at her school, the Colorado School for the Deaf and the Blind. You could say she turtley quacks up when she forms the word.
And anyone can learn it, as she and other students are proving by starring in a five-page spread in this month's Ranger Rick, a children's nature magazine published by the National Wildlife Federation.
"I think it's cool if people learn how to sign," said Grace, a seventh-grader. She's one of 57 seventh- through 12th-grade students enrolled in the deaf and hard-of-hearing program at the school, which also educates blind and vision-impaired students from around the state.
From attending two of her classes, social studies and art, at the mainstream North Middle School, Grace said she knows "people want to learn sign language and be involved in the deaf community."
Four students from the Colorado School for the Deaf and the Blind appear in the magazine, signing a deer (think fingers fanned out near the temples to appear like antlers), a cow, an eagle, a duck, a butterfly, a lion, a lizard and other animals.
Wildlife can become a common bond linking children of all backgrounds, and when others learn the signs, they feel connected to the deaf and hard-of-hearing, said Rocky Mountain National Park Ranger Eric Fifer, who's deaf.
"It is wonderful to see Ranger Rick showing the signed words because it will spark the children's curiosity about who they are in their world," he said in an email.
Seventh-grader Yoleth Valtierra likes the sign for a tiger, also because of the fun factor.
She moves her fingers up and down near her cheeks to indicate whiskers and makes a growly face like "grrr" to say "tiger," just like she did in the magazine.
"I feel famous now," she said through an interpreter.
Magazine staff looked at deaf schools across the nation before asking if students from the Colorado School for the Deaf and the Blind in Colorado Springs would like to participate in the presentation, said Diane Taylor, school spokeswoman.
They were particularly impressed by the school's YouTube videos featuring students, she said.
The four students in the article, "What's Your Animal Sign?" are those who returned the permission slips from parents to take part, said Principal Kristen Huddleston.
"Our goal always is for people to be more aware and familiar with the deaf community and realize they do everything hearing people do," she said.
"They're just regular kids," Taylor added.
The two-hour photoshoot occurred more than a year and a half ago, when the students were fifth graders.
"I liked doing it," Grace said. "I look different than I did."
But they still remember what it was like to enjoy their 15 minutes of fame.
"I felt very proud of myself and wanted to show my family," Yoleth said. "My parents said, 'Wow.'"
Many students received copies of the September issue of the magazine, which is geared for preschoolers through age 12.
"This opens up the concept of American Sign Language to kids who may have never experienced it before," Taylor said.
Sign language is just a matter of talking with your hands, Grace said.
"It's a different language, but similar to spoken English," she said. "We can't speak, so we sign."