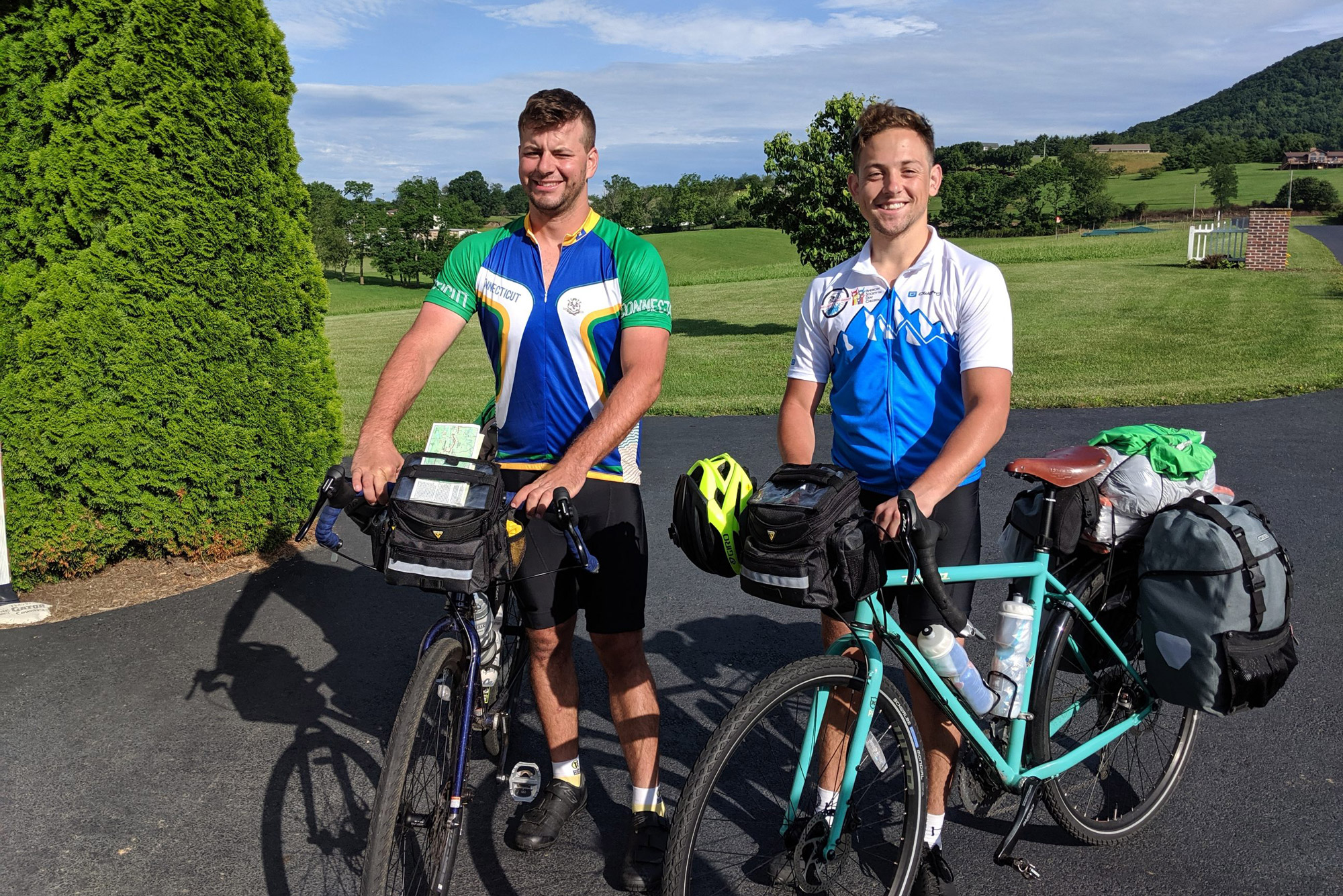 Albert Blake (left) and Conrad Baer (Wheelock'19) aim to bike 60 miles a day on their cross-country trek raising money and awareness for a charity that supports Deaf children. Photo courtesy of Conrad Baer
This summer, recent Wheelock College of Education & Human Development grad Conrad Baer is biking cross-country, contending with all manners of weather, challenging terrain, and the risk of sustaining exhaustion and injuries. His 4,000-mile, 10-state, cross-country charity ride began in Yorktown, Va., on June 8, and he and his riding partner, longtime friend Albert Blake, expect to end in Astoria, Ore., by mid-August.
One more thing to add—Baer and Blake are Deaf, which means they can't hear when a tractor trailer passes, or if a driver delivers a warning honk. But Baer (Wheelock'19) says not being able to hear while biking has only heightened his other senses. 
Baer met Blake when the two were undergrads at Gallaudet University, the only hard-of-hearing college in the world. Their ride is far more than just a chance to see the country on two wheels. The purpose behind their trip is to raise $25,000 for the American Society for Deaf Children (ASDC). Thus far, their donations clock in at $22,000.
"We chose ASDC as the organization to fundraise [for] because the organization's values align with our vision," says Baer. "We believe in sign language rights and education for Deaf children, and ASDC practices this. It was an easy, natural fit for us." 
One reason Baer was drawn to support ASDC was because of its initiative SignOn, an online course that helps hearing families with Deaf children develop their proficiency and comprehension in ASL. "There are Deaf children who have language access at a very young age, but then there are others who don't have access to ASL at home," he says. "It's not their or their families' fault, but there is a huge gap."
The duo's trip is sponsored by Registry of Interpreters for the Deaf, which is helping with outreach and fundraising. 
A native American Sign Language (ASL) speaker, Baer comes from a third-generation Deaf family. The Colorado native majored in ASL as an undergrad and then went on to earn a master's in deaf education from Wheelock in May, and hopes to eventually become an ASL teacher at a Deaf school. Last semester, he was a student teacher at the Rocky Mountain Deaf School in Denver.
In the video above, Conrad Baer (Wheelock'19) and Albert Blake promote their cross-country bike trip that's raising money for the American Society for Deaf Children (ASDC). They use American Sign Language; to read captions, click to view the video directly on YouTube.
"My dad cycled cross-country in 1982, and biking across America has always been my dream," says Baer, who spoke to BU Today by phone through an ASL translator. "Nowadays, people don't realize how important biking is. When my friend Albert and I decided to do this trip in late 2018, we brainstormed and wanted to do something more than just bike. We wanted to raise some money, promote a good cause." 
The two first began talking about biking cross-country the summer after their freshman year, but their plans were put on hold when Baer had an opportunity to join the United States of America's Deaf Under-21 Basketball team to play in Turkey that summer.
For their journey on the TransAmerica Bicycle Trail, Baer is riding his new Kona Sutra bicycle. In the two rear panniers (carry bags that sit on top of his bike), he totes a sleeping bag, sleeping pad, camping stove with utensils, tent, clothes, and toiletries. To prepare for the arduous trip, Baer biked at home in Colorado and around New England, many times with his supplies in tow, so he could get a feel for the weight he'd have to carry across the country. 
"We are trying to do between 60 and 65 miles a day, though today we biked 95 miles, and yesterday 108," says Baer, who has had intermittent phone and internet connection throughout the summer. The state of Missouri was especially challenging both because of the terrain of the Ozark Mountains and the drivers, who drove too close for comfort, he posted on his blog Spokes the Same Language. But, Baer added, the Ozarks' "roller coaster roads" were beautiful. 
He says that he and Blake depend on teamwork. They take turns cooking dinner and washing dishes. They read over maps together and plan out the next day's route. "If one of us is behind on the road, we usually stop at the shoulder and wait until we catch up," Baer says. "We ride together to reinforce each other."
Along the route, they've made several special stops, including the Kentucky School for the Deaf, in Danville. "They have a very rich history, it inspired me so much," Baer says. And when the two biked through Colorado, they stayed at his grandparents' house. He FaceTimes his mom once a week.
Curious how they came up with the name for their blog? While "Spokes the Same Language" makes use of a bike pun, the two also like what it says about ASL. "This beautiful language, this dance of our hands, is a common ground that connects us to so many other people across our diverse country," they write. "As we make our way, we will tell the tale of this trip using our own language—of which we are so proud."
Want to donate to Baer's bike ride supporting the American Society for Deaf Children? Click here.