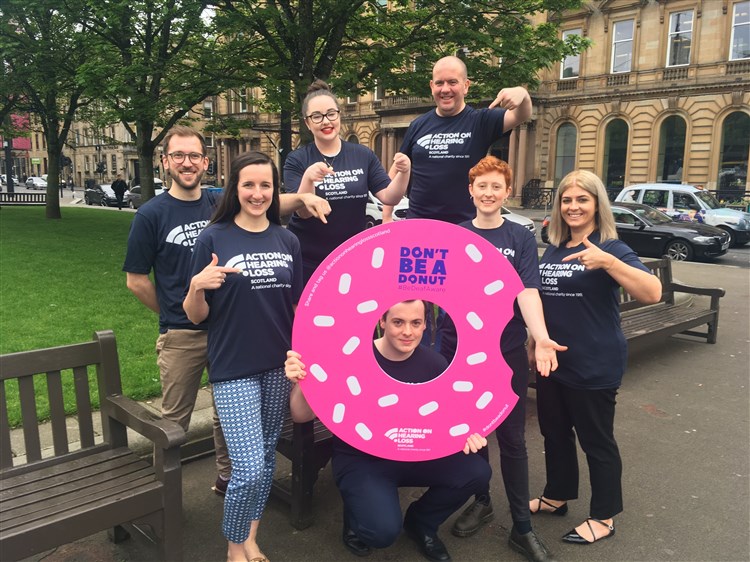 ROSS-SHIRE folk are being invited to take on a lip-smacking challenge to highlight a major issue.
Action on Hearing Loss Scotland is encouraging Ross-shire residents to take on its #DontBeADonut challenge to coincide with Deaf Awareness Week, which starts on May 6.
By doing so, they could help to raise vital funds for the charity's life-enhancing services and ensure that people who are deaf or have hearing loss are not left out of everyday conversations.
People can get involved in the charity's #DontBeADonut fundraising challenge by filming family, friends or colleagues trying to eat a donut without licking their lips and posting the videos on Facebook, Instagram and Twitter.
The forfeit for those who succumb to licking their lips is a suggested donation of £3 to Action on Hearing Loss Scotland and nominating others to give it a go! The charity wants everyone to take on board the following Deaf Awareness Week top tips which will enable people who are deaf or hard of hearing to fully participate in conversations, discussions or chit-chat.
Tips include:
• Before you start speaking with someone who is deaf, get their attention first by waving or tapping them on the arm.
• Find a suitable place to talk, away from loud noise or distractions.
• Ask the deaf person if they lipread and, if they do, don't exaggerate your lip movements or cover your mouth and have the conversation in a well-lit area.
• Don't shout as it can be uncomfortable for hearing aid users and look aggressive.
• Speak clearly and check the person you are speaking to is following the conversation. If they don't understand, try saying it in a different way.
• If you're using communication support, such as a British Sign Language (BSL) interpreter, always remember to talk directly to the person who is deaf.
Action on Hearing Loss Scotland director, Teri Devine, said: "Our Deaf Awareness Week message for people in Ross-shire is 'Don't be a donut, be deaf aware!'
"Our deaf awareness top tips are very easy to do and can make a huge difference in enabling people who are Deaf or have hearing loss to follow and participate in everyday conversations.
"We'd be delighted if everyone enjoys our sweet treat #DontBeADonut challenge to raise funds for our services providing essential support to help people who are Deaf or have hearing loss to live the life they choose."  For more information about how you can get involved in the charity's Deaf Awareness Week activities, visit www.actiononhearingloss.org.uk/DAW19, call/text: 07388 227407 or email: scotland@hearingloss.org.uk   Follow Action on Hearing Loss Scotland on Facebook and Twitter at @hearinglossSCO and on Instagram at actiononhearinglossscotland