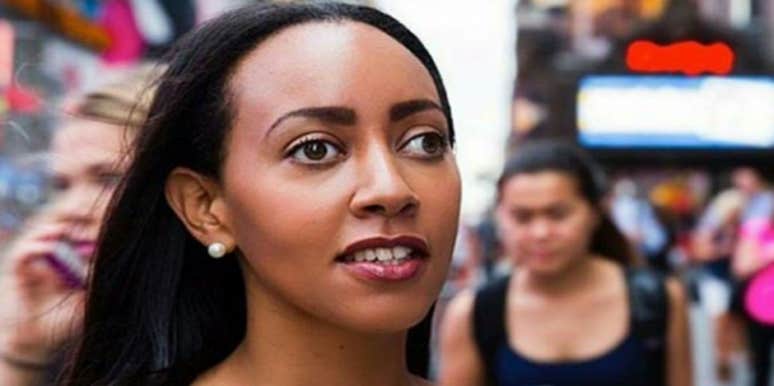 Her memoir was released this month.
Haben Girma wears a lot of hats: she is a lawyer, a disability rights advocate, a 2013 White House Champions of Change honoree, a ballroom dancer and now the author of a new memoir. She does this as all as a Deafblind person. Girma is a child of Ehtiopian and Eritrean immigrants. She grew up in Oakland California. She was born Deafblind and attended public school, where she learned sign language, spoken English and Braille. She uses a combination of accommodations to communicate with those around her, including a system she devised where a typist inputs spoken conversation into a keyboard that is linked via Bluetooth to a real-time Braille reader so that Girma can participate in the conversation as it happens. She can answer using spoken English. 
This kind of accommodation combined with a service dog to help her with mobility allowed Girma to become the first Deafblind person to graduate from Harvard Law School in 2013. Since then she has worked as a disability rights lawyer and argued critical cases to increase access to online materials for the blind. Now she has written a memoir about her life experiences.
Who is Haben Girma? Read on to learn more.
1. Child of immigrants
According to an interview with NPR in 2015, Girma's mother left Eritrea in 1983, during the war of independence with Ethiopia. Saba Gebreyesus made a two-week trek to Sudan, "walking at night to try to avoid the different military groups fighting in that area." During the journey, she told her children she once she slept in a tree surrounded by hungry hyenas. She eventually resettled in California and met Haben's father, another immigrant from Ethiopia. Haben was born in 1988 and attended public schools in Oakland. She told the Harvard Law Bulletin: "My parents tried very hard to make sure I had access to everything, and consequently I grew up thinking I could have access to everything."
2. Self-advocating at college
When GIrma began college at Lewis & Clark College in Oregon, she faced challenges in the cafeteria: because the food station menus were posted on the wall, she could not access them and, instead, walked to a station and took whatever she was served. Her classmates got to make informed choices about their meals but she never got those choices and felt like deserved to know what was at all the food stations. She joked to NPR: "What if there was chocolate cake at Station Four?" She asked to have the cafeteria menu made accessible to her electronically so that she could have it translated to Braille but the cafeteria manager wasn't reliable about doing so and said he was too busy to honor the request. Girma says that at that point "I explained that Title III of the ADA requires businesses to make reasonable accommodations for persons with disabilities; if the cafeteria refused to do this, I would sue." The menu started to arrive in her email inbox regularly after that. Moreover, the following year, a newly enrolled blind student was also able to take advantage of the system Girma had set up. 
3. Harvard Law School
By the time she was accepted at Harvard, Girma knew she wanted to work as a legal advocate for people with disabilities. She set up a series of systems to make law school work well for her including getting all assigned readings in a digital form so she could either listen to them on her computer — she has some ability to hear high-pitched sounds — or read them on a Braille display. During class Girma had a voice transliterator in the back of the room who would narrate the discussion for her, transmitting from their microphones into her earphones. Sounds amplification worked for her in quiet environments but for noisier spaces, she developed a two-keyboard system to communicate in groups. People can type into a Bluetooth keyboard, and the words pop up on a Braille for Girma to read. "This system has let me communicate everywhere," she told the Harvard Law Daily, "from the loudest dance club to HLS receptions." 
4. Champion of Change
Friends and colleagues aren't the only ones who have taken advantage of the two-keyboard set up to chat with Girma. In 2013, she was invited to the White House to introduce President Obama at an event celebrating the anniversary of the Americans with Disabilities Acts. She told NBC that Obama entered his side of the conversation into the keyboard but that he was a very slow typist. However, she said the whole interaction was positive, telling NBC: "A lot of people are uncomfortable with something that's different…they come up with all kinds of excuses that basically say 'this is weird; I don't want to get involved.'" But Obama wasn't. "He graciously switched from speaking to typing so that I could access his words. And we had an awesome conversation.
President Obama types a message to Haben Girma, who is deaf and blind, before she introduced him at ADA reception
5. Professional disability rights advocate
After law school, Girma went to work for Disability Rights Advocates, a non-profit in Berkeley, CA.  According to her official bio on the organization's website, "Working to increase access to technology for people with disabilities, she helped achieve victory in National Federation of the Blind v. Scribd, one of only two decisions to hold that the ADA applies to virtual businesses." The case involved arguing that Scribd was required under the law to make materials in their online library accessible to the blind. After settling the case out of court, Scribd agreed to do so in 2017. 
6. New memoir out this month
Girma is telling her life story in her new book Haben: The Deafblind Woman Who Conquered Harvard Law. She says she hopes her story gives readers a new perspective on disabled persons, telling People magazine, "I hope people can move away from seeing people with disabilities as incompetent. If we remove barriers, we can have great inclusion." Girma's new book was released in August and is available at all major book sellers.